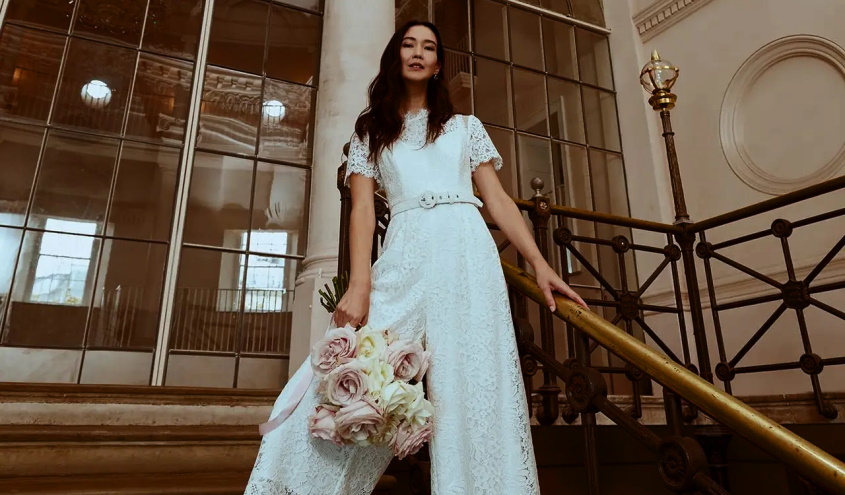 Break All the Rules With the Latest Trend – The Wedding Jumpsuit for Brides
Are you a bride looking for something different? Have you grown tired of the same old dress choices and want to find an option to have your guests whispering about how unique and stylish you look on your special day? If so, say goodbye to traditional white wedding gowns – today's trend is the chic and daring wedding jumpsuit! This modern ensemble can be personalized with various colors, shapes, and fabrics that reflect your style. From classically elegant cuts to playful styles featuring bold prints or sparkling sequins, these one-piece wonders will turn heads as you walk down the aisle. Whether planning an intimate gathering at home or an extravagant celebration at a grand venue, let this inspiring trend add its edgy charm as your 'something new' on your big day.
Ditch the dress! Stylish jumpsuits for every type of bride
Brides today are ditching the traditional wedding dress in favor of a more modern, stylish jumpsuit. So whether you're looking for a classic white tuxedo-style number or something with color and sparkle, there's a jumpsuit to suit every style – from contemporary to vintage. Jumpsuits offer all the glamour of a dress with an effortless, relaxed look that suits any personality and occasion.
When choosing your bridal jumpsuit, consider how comfortable it will be during your ceremony and reception – while still looking fabulous! Look for breathable fabrics with stretch that can move with you as you dance or walk around. Choose details such as ruffles, sequins, or lace trim to add a touch of elegance.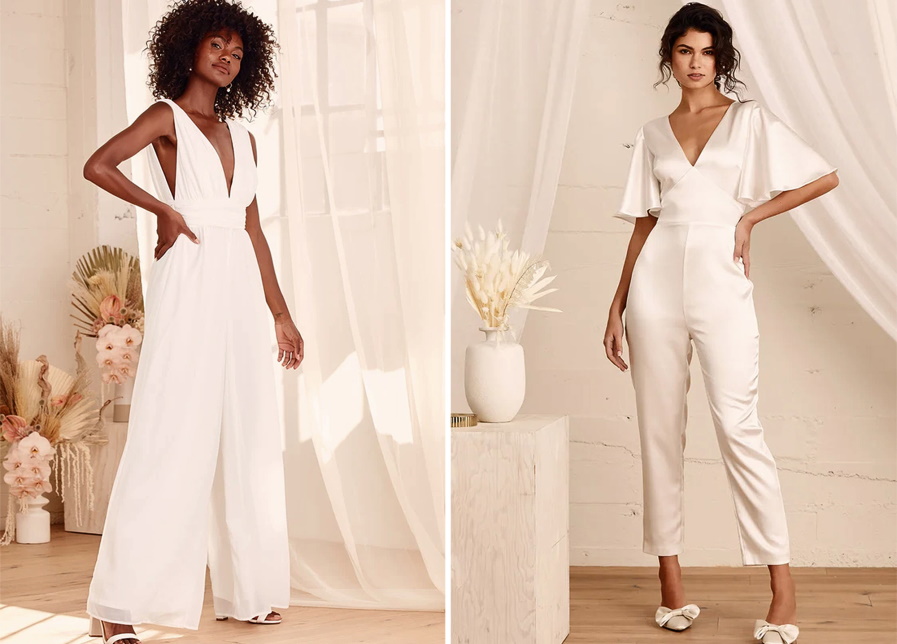 For a more classic look, opt for a white tuxedo-style jumpsuit with tailored fit and clean lines – perfect for a formal or semi-formal wedding. If you want to add some extra sparkle, choose one with sequin embellishments or metallic accents. Or, if you're feeling daring, try a colorful jumpsuit in an unexpected hue like pink or purple.
No matter your style, there's no doubt that a stylish jumpsuit will make you feel like the most beautiful bride on your special day! So ditch the dress – it's time to embrace the modern bridal look with a fabulous jumpsuit.
Guide to choosing the perfect wedding jumpsuit for the bride-to-be
When choosing the perfect wedding jumpsuit for the bride-to-be, there are a few things to consider. First, think about what type of look you're going for. From chic and modern designs to traditional and romantic styles, various options are available to find your perfect fit.
The next step is determining which fabric will be best for your big day. Look for lightweight and breathable fabrics, so you don't get too hot under all the lights and cameras on the wedding day. Choose materials like crepe or chiffon, as these won't add bulk and will allow for more movement throughout the night.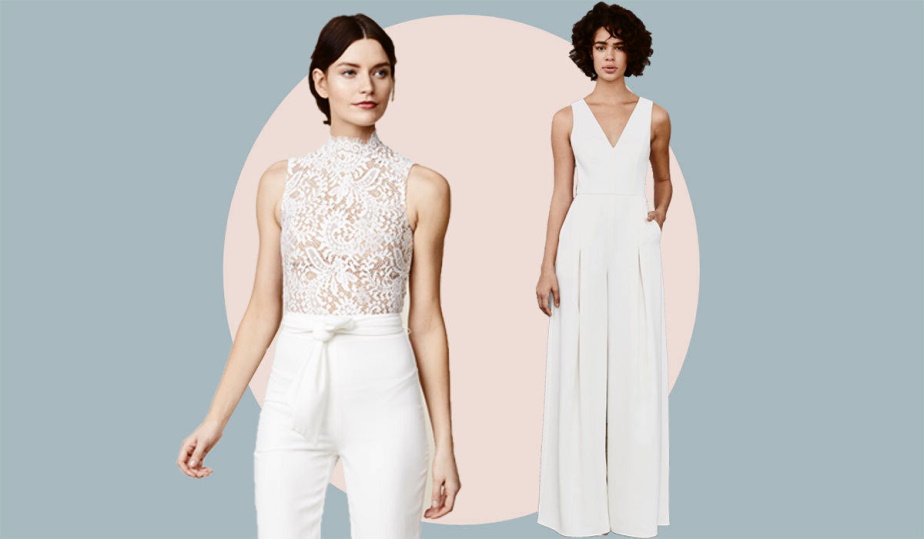 It's also important to choose a jumpsuit that fits your body type. For example, if you're petite, look for styles with shorter lengths and tailored silhouettes to flatter your frame. For fuller figures, try a jumpsuit with an Empire waist or draping details to create the illusion of an hourglass figure.
Finally, decide on the accessories. Jumpsuits can easily be dressed up or down, depending on what jewelry and shoes you choose. Statement earrings, necklaces, and bracelets will draw attention to the upper half of the body, while bold stilettos and embellished sandals add some glitz and glamour to complete the look.
No matter which style you choose, remember that comfort is key. Find a jumpsuit appropriate for the season, fits your body type and allows you to move freely throughout the night. With these tips in mind, you'll be sure to find the perfect wedding jumpsuit for your special day!